We had lots of fun last week making fake snow. It's so quick and easy to make, give it a try at home! All you need is 1kg of bicarbonate of soda and some saving cream. Mix the shaving cream into the bicarbonate of soda a little at a time, until you get the consistency of snow. When you've finished playing with the 'snow', spray some white vinegar onto it and see what happens!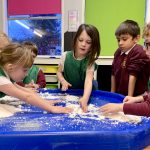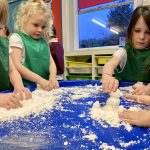 We also made mini paper kites. The children loved decorating them and then flying them outside. We can't wait to try these again, but on a bigger scale and on a windy day!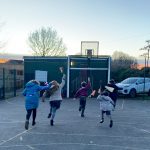 This weeks activities are ballon tennis, perfect for cold dark nights, when there is excess energy to be used up. We will be making our rackets with paper plates and lolly pop sticks.
We will also be doing the paper plate challenge. One person holds a paper plate in front of their face and a second person tells them what to draw. I can't wait to see what masterpieces they come up with!
And last of all is the Lego challenge. We will start building a Lego construction on Monday and the children will be adding to it each day. I wonder what it will look like on Friday?
This weeks snacks are;
Monday – bagels
Tuesday – beans/toast
Wednesday – muffins/cream cheese
Thursday – tomato soup
Friday – malt loaf
Fresh fruit, vegetables and water are available throughout the session.