The children had great fun last week making (and eating) marshmallow pops!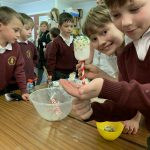 Activities for this week are;
Ballon racing, which can be done inside or outside, so is great fun whatever the weather.
Elastic slime, it's a liquid and a solid at the same time and is irresistibly tactile.
Crab football, which is great for those dark winter afternoons, when outdoor play opportunities are limited.
This weeks snacks are;
Monday – malt loaf
Tuesday – crumpets
Wednesday – chicken salad wraps
Thursday – tea cakes
Friday – pitta/hummus
Fruit, vegetables and water are available at all times throughout the session.